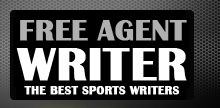 Yankee Addicts
Categories
Featured Sponsors
News published by
November 19, 2011
In spite of a horrendous start to their season, against all the odds, the Arizona Cardinals, now at 3-6 find themselves fighting to keep the hopes of a winning season ...
February 11, 2011
After being named as a favorite target by Cardinals star receiver Larry Fitzgerald, Eagles, backup quarterback Kevin Kolb has weighed in on the subject of where he may be starting ...
February 9, 2011
In a surprise turn-around from the reports circulated earlier, the Cardinals have been denied permission to speak to Keith Butler of the Pittsburgh Steelers.Butler, who is still considered the eventual ...
January 22, 2011
As the draft approaches, many people have begun to speculate whether drafting a quarterback could be in the cards for—pardon the pun—the Cards. Others are looking around the league for disgruntled ...
January 10, 2011
Arizona Cardinals wide receiver Larry Fitzgerald could be on the verge of becoming the highest paid non-quarterback in NFL history, according to reports. ESPN's Chris Mortensen reports that the Cardinals have begun ...
January 9, 2011
If you have watched the Arizona Cardinals at all in 2010, one thing, above all else, will be painfully obvious to you.The Cardinals are in desperate need of an upgrade at Quarterback.And ...
December 27, 2010
With a Christmas day win against the Cowboys, John Skelton has now tied Derek Anderson as the Cardinals' winningest quarterback of 2010.His second win came in just his third NFL ...
December 19, 2010
In the space of one season, the Arizona Cardinals have gone from being one of the premiere passing teams in the NFL, to one of the worst.Of course, few teams ...
December 13, 2010
Though the postseason may be out of reach for Arizona, the Cardinals came out all guns blazing against the Denver Broncos, earning an important win for the Cardinals' morale. The 43-13 ...
December 11, 2010
Cardinal fans. Let's be honest. Arizona does not have the best record when it comes to the NFL draft.Yet, it has been very clear that the Cardinals are in desperate ...