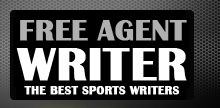 Yankee Addicts
Categories
Featured Sponsors
News published by
May 28, 2016
When it comes to NFL relevance, you can bet the Tampa Bay Buccaneers are tired of theirs only coming once the on-field action ends and the draft projections begin. The last ...
May 26, 2016
Both figuratively and literally, things are heating up across the NFL as the offseason wears on and training camp starts to peek over the horizon of organized team activities and ...
May 24, 2016
Everyone loves a good underdog story, and like any sport, the NFL does its part to churn them out on an annual basis. Every year the NFL playoffs feature the current ...
May 20, 2016
Too early for 2017 NFL draft predictions? It's not too early, unless we decide it is! It will be months before the race for next year's No. 1 overall pick begins to ...
May 18, 2016
Even if they've never read a word of Charles Dickens, promising prospects selected high in the NFL draft know their fair share about great expectations. From castoff quarterbacks looking for a ...
May 16, 2016
It is a truth universally acknowledged that an NFL team in possession of playoff dreams shall be in want of a franchise quarterback. Even Jane Austen could have pointed out the ...
May 14, 2016
The running back position is devalued in today's NFL, they say. Tell that to last year's 10th overall pick and NFL Offensive Rookie of the Year, Todd Gurley. Or this year's ...
May 12, 2016
When many NFL fans think of their team attempting to build a strong supporting cast around their quarterback, it's understandable for them to think first of adding weapons in the ...
May 9, 2016
With the 2016 NFL draft now in the rearview mirror, all eyes are now trained on rookie minicamps, roster projections and regular-season predictions. When it comes to Rookie of the Year ...
May 8, 2016
There are plenty of reasons why the Baltimore Ravens have made the playoffs in six of the last eight seasons, with a pair of division titles and a Lombardi Trophy ...