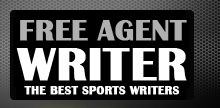 Yankee Addicts
Categories
Featured Sponsors
News published by
May 5, 2016
The NFL draft is no rotisserie fantasy, but the concepts of minimizing risk and maximizing value still ring plenty true every April when all 32 teams come together to reload ...
May 2, 2016
It's all about matchups in today's NFL, as teams do everything they can to catch their opponent in a favorable situation. Whether it's an athletic pass-catcher at tight end against an ...
April 30, 2016
It's been a long time since Mark Brunell was tossing enough touchdowns to Jimmy Smith and Keenan McCardell to fill the St. John's River. Instead of tearing through opposing defenses ...
April 29, 2016
With 31 picks in the books, the 2016 NFL draft has already brought a plethora of storylines and shockers. From Mississippi offensive tackle Laremy Tunsil dropping out of the top 10, ...
April 27, 2016
There are some teams who would love a draft do-over more than George R.R. Martin loves a good bloodbath. Whether it's disappointing early returns or a long-time career of failed expectations, ...
April 23, 2016
First, it was Kam Chancellor in Seattle. Then Deone Bucannon in Arizona. NFL teams are looking for the next versatile defender who can play in a hybrid safety/linebacker role, and Southern ...
April 21, 2016
It's not often a star offensive lineman from a major college program coming off a national title appearance flies under the NFL draft radar, but that's exactly where you'll find ...
April 19, 2016
Ah, hindsight. You can bet that if NFL general managers knew how to crack time travel, they'd be heading back to last year's draft to change a few things. It takes more ...
April 16, 2016
We're less than two weeks away from the 2016 NFL draft, but the trade show has already begun, thanks to the Tennessee Titans and Los Angeles Rams. The No. 1 overall ...
April 12, 2016
With the 2016 NFL draft just a little more than two weeks away, fans of each and every team are starting to feel that same feeling they experienced as children ...