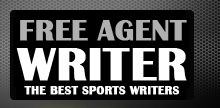 Yankee Addicts
Categories
Featured Sponsors
News published by
March 27, 2011
Tough teams need tough quarterbacks, especially since the NFL is a quarterback-driven league.  The Bengals would be better off trading their quarterback, gentleman Carson Palmer, to a team like the Vikings, ...
January 23, 2011
Cleveland Browns president Mike Holmgren seeks to implement a West Coast offense in the cold weather city to better suit the skills of rookie starting quarterback Colt McCoy, who lacks ...
January 3, 2011
At his Sunday night press conference, soon-to-be-permanent head coach Leslie Frazier looked uncomfortable in his role as Zygi Wilf's chief of propaganda.  After getting beaten 20-13 and sent into last place ...
November 23, 2010
Quarterback Brett Favre can now bring home a Super Bowl championship for the Minnesota Vikings after owner Zygi Wilf finally fired Brad Childress and replaced him with Leslie Frazier.  The Star ...
November 16, 2010
Most Minnesota Vikings players deserve blame for giving up on the team during their 27-13 loss to the Chicago Bears at Soldier Field on Sunday, but primary blame belongs with ...
October 28, 2010
This week, Minnesota Vikings head coach Brad Childress, and also many in the media, largely blamed Brett Favre for the loss to the Green Bay Packers.  An analysis of the ...
October 1, 2010
Brad Childress is infamous for predictable play calling and even telling plays. This year, he has ordered a passing play each time he has been faced with more than two yards ...
September 7, 2010
Brad Childress is still missing a simple clue about wide receivers that a head coach should know: split ends should be big, as well as fast.  Bernard Berrian is too ...
July 29, 2010
NFL consultant Michael Lombardi claims successful head coaches are leaders that: (1) develop a comprehensive plan, (2) communicate it, (3) convince players to buy into it, and (4) admit mistakes. ...
July 4, 2010
Last Monday, the Super Bowl contending Minnesota Vikings, lacking depth at wide receiver, quietly improved the team even more by claiming an obscure free agent, to many in the media ...