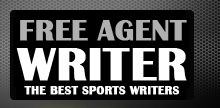 Yankee Addicts
Categories
Featured Sponsors
News published by
June 28, 2010
The Minnesota Vikings should determine which position last year's NFL ROY Percy Harvin should play to best utilize his big play potential. Slot receiver? Third down scat back? Split-end receiver? Feature running back? Of course, ...
June 18, 2010
The recent signing of former Philadelphia Eagles third round draft choice and running back Ryan Moats by the Minnesota Vikings has raised another question.  Is head coach Brad Childress ...
June 15, 2010
The Minnesota Vikings have the opportunity to become the NFL's top rushing offense this year and perhaps of all- time. The team is using specialization (in three dimensions) to ...
April 11, 2010
Minnesota Vikings head coach Brad Childress was in Gainesville this weekend, with his quarterbacks coach Kevin Rogers.  Among other appointments, Childress had a private workout scheduled with former Florida Gators ...
April 4, 2010
Minnesota Vikings head coach Brad Childress has been a mostly patient psychologist with Brett Favre: He just lets Favre do what he wants. He knows Favre will only try to ...
March 31, 2010
Sherlock Holmes, or at least his methods, can amaze Vikings fans by accurately predicting who the team will select in the upcoming draft, and even suggest improvements, simply by using ...
March 27, 2010
This week Minnesota Vikings head coach Brad Childress displayed both defensiveness and wishful thinking toward his two starting safeties: free safety (FS) Madieu Williams and strong safety (SS) Tyrell Johnson.   The ...
March 21, 2010
The question that keeps popping up is this: Why are the Minnesota Vikings not in a hurry to determine whether Brian Westbrook should be their third-down running back or not?   Since ...
March 18, 2010
The Minnesota Vikings acquired a once in a lifetime opportunity when they drafted superstar running back Adrian Peterson in 2007.    AD, or All Day, as he likes to be called, possesses ...