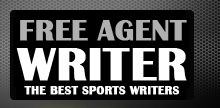 Yankee Addicts
Categories
Featured Sponsors
News published by
July 23, 2011
Have you ever wondered what an all-NFC South dream team offense would look like? I found myself pondering such a subject and thought I would put together my own dream ...
April 6, 2011
I usually don't get into doing overall mock drafts as it's all up to the team's perception of players anyways. However, with a little extra time on my hands I ...
March 30, 2011
On April 28, the NFL will hold its annual draft. All eyes will be glued to the television to see what college stars will be donning their favorite teams jersey ...
March 25, 2011
I thought I would do a little wading into enemy waters and test my prowess on the Carolina Panthers draft. Their first pick is a very intriguing one this year ...
March 22, 2011
The New Orleans Saints waisted no time improving their defense by signing three defensive tackles one week after an embarrassing loss to the 7-9 Seattle Seahawks. Marshawn Lynch only rushed ...
March 20, 2011
Last year, I did a mock draft for the Denver Broncos due to them getting so much attention leading up to the draft. This year, for some reason, I feel ...
March 12, 2011
HUMOR—Well folks, it's official. The NFL and its players have decided to de-certify from each other. This makes the possibility of a 2011 season seem very bleak. The NFL owners ...
March 5, 2011
Last year I made a mock draft and only got one of the players I had hoped for (Jimmy Graham). This year, I think I'll call it my wish list ...
March 3, 2011
The other day, while watching the NFL Combine, I noticed some of the players wearing something that looked like it was out of a science fiction movie. It was placed ...
March 2, 2011
It seems official Saints fans. The New Orleans Saints and the "Big Baby" (no not Glenn Davis) have agreed to a one-year deal. That's right folks, Shaun Rogers is coming ...