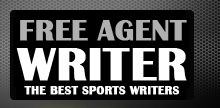 Yankee Addicts
Categories
Featured Sponsors
News published by
July 2, 2013
For sixth-year veteran wide receiver Josh Morgan, the upcoming season is one of huge importance.Make it gargantuan importance.For a 28-year-old wide receiver with mediocre productivity, this season is the demarcation ...
April 23, 2013
Despite not having a first-round draft pick, the Redskins have seven picks in the upcoming 2013 NFL draft. Their biggest needs are at safety, cornerback, inside linebacker and offensive tackle. ...
April 16, 2010
Barring any trades prior to Thursday's NFL Draft, the Redskins enter the NFL's version of "Who Wants To Be A Millionaire" with a paltry FOUR picks. Bruce Allen and Mike ...