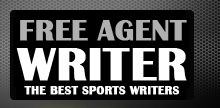 Yankee Addicts
Categories
Featured Sponsors
News published by
October 27, 2010
Seahawks rookie left tackle Russell Okung left Seattle's game against the Arizona Cardinals last Sunday with his second ankle sprain of the season. Though this sprain is not nearly ...
October 23, 2010
Tied for first in the NFC West, the Seattle Seahawks and the Arizona Cardinals meet Sunday for the first time this season at Qwest field. After garnering surprise wins ...
October 11, 2010
It may only be Week 5 of the regular season, but with today's surprise win over Cincinnati, the Tampa Bay Buccaneers have already matched their win total from last year.  ...
August 24, 2010
Last time the Seahawks met the Vikings they were pummeled to the tune of 35-9 (21 of those points coming in a first half shutout).  They were instruments in the ...
August 24, 2010
The Seahawks first two exhibition games revealed some truths about the season to come.  The offense looks good. The re-vamped offensive line has been able to keep pressure off the ...
June 1, 2010
Three guys walk into a bar: a USC fan, a Jets fan, and a Seahawks fan."Pete Carroll is the greatest coach since Vince Lombardi!" the USC fan exclaims."Seeing as my ...
May 25, 2010
Pete Carroll's rotating roster is intended to foster competition in the training camp. He wants each and every player to earn his role. Three quarterbacks with something to ...
March 6, 2010
The Denver Broncos' Brandon Marshall is scheduled to meet with the Seattle Seahawks today, including former Broncos coach Jeremy Bates.  Despite fears of off the field behaviors becoming an issue, ...