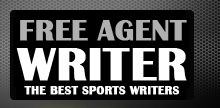 Yankee Addicts
Categories
Featured Sponsors
News published by
April 19, 2011
The Seattle Seahawks' draft history as a whole is unremarkable at best.  While there have been some shining exceptions—Shaun Alexander and Walter Jones to name names—as a whole, the group ...
April 18, 2011
The 2011 NFL Draft is fast approaching and with the lockout and subsequent suspension of free agent negotiations this weekend in April is the only way for teams to address ...
January 29, 2011
The Seattle Seahawks are entering this year's draft with only three picks, each late in their respective rounds (25, 57, 98). While Pete Carroll and John Schneider may come ...
December 30, 2010
2010 has been topsy-turvy in the world of the NFL. Kansas City leads their division while the Cowboys bottom-feed in theirs. Head coaches are losing jobs all over ...
December 26, 2010
The hunt is on.  With only two weeks left in the regular season, both the Seattle Seahawks (6-8) and the Tampa Bay Buccaneers (8-6) are desperately vying for playoff scraps. ...
December 23, 2010
With only two weeks left of regular season play, the playoff picture should be crystal clear. Instead, only one team has clinched a division, and only three more have ...
November 10, 2010
With the Seahawks struggling of late, let's take a break to look forward to the 2011 draft.That pesky injury bug has set up camp in Seattle for yet another year ...
November 9, 2010
Though the Seahawks suffered an embarrassing defeat on Sunday versus the New York Giants, some details in the fabric highlighted some positive aspects of the Seattle Seahawks team.Charlie Whitehurst had ...
November 9, 2010
After the Seattle Seahawks featured Charlie Whitehurst in his first NFL start last weekend and lost to the New York Giants 41-7, fans are calling for Whitehurst's head. The ...
November 3, 2010
The Seahawks were treated to a trick last weekend when they met the Raiders in Oakland and left battered, with their tails between their legs. The Seahawks are rattled with ...