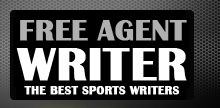 Yankee Addicts
Categories
Featured Sponsors
News published by
April 21, 2011
Pat Kirwan of NFL.com has the Miami Dolphins selecting CB Prince Amukamara out of Nebraska at No. 15 in the 2011 NFL Draft. As I read this, I thought it was crazy for several ...
April 7, 2011
The general consensus among Miami Dolphins fans is that the Dolphins will either stay at #15 or trade-down in order to pick-up a second round pick. Well I would like ...
February 22, 2011
He's baaaaaack. Love him or hate him, Bryan Cox is back as a Miami Dolphin. This time it is in a coaching capacity as the team's pass rush coach. Since retiring from ...
February 3, 2011
I am getting a little worn out complaining about the Miami Dolphins front office, but they just keep giving me reasons to complain. The latest infraction: Dolphins CEO Mike Dee ...
January 28, 2011
Nothing has been conventional about the Miami Dolphins' offseason. Now it's time to continue the unconventional behavior and go get Jeff Fisher to be the Dolphins' head coach. The likelihood of that ...
January 18, 2011
This is not a personal attack on Brian Daboll. I am sure he is a great guy, but the Miami Dolphins hiring him as offensive coordinator is a huge mistake. Obviously, ...
January 11, 2011
I know the mock NFL draft's are flying all over, and in my honest opinion, a lot of them are just throwing out big names or are dreaming and not ...
January 7, 2011
Ever since the late, great Joe Robbie left the Miami Dolphins franchise, the Dolphins have been run by monkeys wearing blindfolds throwing darts at a big board to make all the ...
December 28, 2010
The way the Miami Dolphins have collapsed in games should just about get Tony Sparano fired.  It is not just from this past week, but in several other games as well (Cleveland, Buffalo, and ...
December 24, 2010
The Miami Dolphins' playoff hopes are over, but the season is not officially over for another two weeks. Like many of the Fin fans that have been calling the radio stations, ...