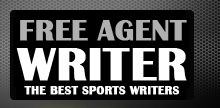 Yankee Addicts
Categories
Featured Sponsors
News published by
January 11, 2011
The 2010 NFL post season is in full swing. Last weekend, in the Wild Card games, the Seahawks shocked many people by upsetting the Saints at home, the Jets managed ...
December 6, 2010
The Cowboys put on one of their most impressive performances to date this season beating the Colts in Indianapolis 38-35 in an overtime thriller. The Cowboys were running away with it ...
December 2, 2010
The 2010 Dallas Cowboys have been a disappointment. They had Super Bowl aspirations before the season started and now they aren't even going to make the playoffs. Getting off to ...
November 22, 2010
For the first time this season, the Dallas Cowboys have won two games in a row. Interim head coach Jason Garrett is looking like a savior, having yet to lose ...
November 22, 2010
Don't look now, but the Dallas Cowboys are on their first winning streak of the season. After easily beating the Detroit Lions yesterday, the Cowboys are now 3-7. While Jon ...