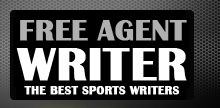 Yankee Addicts
Categories
Featured Sponsors
News published by
July 28, 2016
Chicago Bears offensive lineman Kyle Long insisted his team isn't using the rest of the NFL's opinion toward the franchise as bulletin board material for the upcoming season, but he ...
July 28, 2016
Denver Broncos superstar pass-rusher Von Miller signed a six-year, $114.5 million contract to secure his future with the franchise this offseason, and he spoke Wednesday about how thrilled he is ...
July 28, 2016
Tim Tebow prefers to keep his options open as a free agent rather than retire from football, but he is interested in coaching and politics if such opportunities present themselves. ...
July 27, 2016
Tampa Bay Buccaneers defensive tackle Gerald McCoy has seen enough out of quarterback Jameis Winston to anoint him as the team's top leader entering the 2016 season.   McCoy spoke about ...
July 27, 2016
Cleveland Browns outside linebacker Armonty Bryant pleaded guilty Wednesday to an amended misdemeanor attempted drug possession charge. Evan McDonald of Cleveland.com reported on Bryant's case, which originated from a traffic stop ...
July 27, 2016
Pro Football Hall of Famer Warren Sapp was attacked by a shark while lobster fishing on a charter boat. Two Conchs Charters, based in Marathon, Florida, posted a photo Wednesday on ...
July 27, 2016
The Los Angeles Rams traded for quarterback Nick Foles last offseason, but after a disappointing 2015 campaign from their potential signal-caller of the future, they reportedly elected to release him ...
July 27, 2016
Former New York Giants head coach Tom Coughlin reportedly isn't stepping away from the game of football entirely this coming season. ESPN's Jim Trotter reported Wednesday that Coughlin will join the ...
July 27, 2016
After a strong first season with the Carolina Panthers, free safety Kurt Coleman reportedly agreed to a three-year contract extension on Tuesday. NFL Network's Ian Rapoport initially reported the news of ...
July 26, 2016
The Indianapolis Colts announced the inconspicuous signing of free-agent running back Abou Toure on Tuesday but added that ball-carrier Tyler Varga was placed on the reserve/retired list. Stephen Holder of the ...