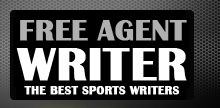 Yankee Addicts
Categories
Featured Sponsors
News published by
July 25, 2016
The NFL and the NFL Players Association announced an agreement on a new policy Monday that will focus on enforcing game-day concussion protocol. NFL Commissioner Roger Goodell will have full discretion ...
July 25, 2016
Sarah Thomas was the NFL's first full-time female official last season, but she was only able to process and feel the weight of her pioneering occupation in retrospect.  Thomas spoke to ...
July 24, 2016
Free-agent quarterback Jimmy Clausen hasn't had much success in his NFL career, yet he's still drawing interest from multiple teams as a backup. Continue for updates. Clausen to Work Out for Lions ...
July 21, 2016
Seattle Seahawks defensive end Michael Bennett still has two years left on his contract, but he could be angling for a new deal. Continue for updates.     Bennett Comments on Contract ...
July 19, 2016
Dallas Cowboys rookie running back Ezekiel Elliott has yet to play a down in the NFL, yet his popularity is already soaring.  Director of NFC Football Communications Randall Liu reported Tuesday ...
July 18, 2016
Free-agent cornerback Charles Tillman won't be returning for a 14th NFL season after being part of the Carolina Panthers' run to Super Bowl 50 in 2015, as he announced his ...
July 18, 2016
In an initiative to more precisely analyze place-kicking and ball placement, the NFL is reportedly finalizing plans to put custom data chips in certain game footballs. ESPN.com's Kevin Seifert reported the ...
July 18, 2016
Former Philadelphia Eagles two-way player and head coach Marion Campbell died Wednesday in Plano, Texas, at the age of 87. Alex Smith of the team's official website reported the news Sunday. "Marion Campbell ...
July 18, 2016
As Los Angeles Rams head coach Jeff Fisher enters the last season of a five-year contract, the team isn't in any rush to move forward with extension talks. Continue for updates. 'No ...
July 15, 2016
The Denver Broncos placed the franchise tag on superstar linebacker Von Miller before the 2016 season but intended to lock him up to a long-term deal. The move became a reality ...