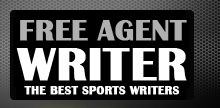 Yankee Addicts
Categories
Featured Sponsors
News published by
July 22, 2010
Dez Bryant, former Oklahoma State wide receiver and the Dallas Cowboys' first-round pick, has agreed to a five-year, $11.8 million dollar contract with $8.5 million guaranteed Bryant could provide a much ...
July 16, 2010
All fantasy football team owners love when they find that "diamond in the rough" or the player that will have a breakout season. Sometimes, these players chip in 10-15 points ...
July 11, 2010
This is update number two of my fantasy football season in which I will provide updates throughout the year (for update one, click here). On July 8, I received my first ...
June 25, 2010
I know most of you reading this article are going to feel that I am insane after I mention this statement. Yesterday, on June 24, 2010 I had my actual ...
June 23, 2010
Former New York Giants linebacker Lawrence Taylor was indicted on charges of rape, patronizing a prostitute, criminal sexual act, endangering the welfare of a child, and sexual abuse. The indictment stems ...
May 22, 2010
Minnesota Vikings quarterback Brett Favre made a decision today that could shift the fantasy football landscape. He decided to undergo arthroscopic ankle surgery. So now you know the news, but one ...