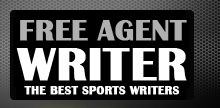 Yankee Addicts
Categories
Featured Sponsors
News published by
March 12, 2011
As of midnight EST on Friday, the NFL had officially locked out its players, thereby making the league's first work stoppage since 1987 almost a foregone conclusion. Let me ask you ...
March 12, 2011
Unfortunate news hit the wire in the past hour regarding the NFL and NFLPA's labor negotiations.  The NFLPA has decided to decertify from the union, theoretically making the NFL's first work ...
February 13, 2011
On February 10, former Auburn quarterback and Heisman Trophy winner Cam Newton displayed his abilities for the media during a 45-minute workout session. While Newton reportedly was spectacular during the session, will this ...
December 7, 2010
Breaking news broke today regarding Denver Broncos head coach Josh McDaniels' job security. McDaniels has been fired as the head coach of the Broncos after a relatively discouraging tender and running ...
November 21, 2010
The NFL can be an unfair business in regards to both personnel moves as well as media coverage. As a result of the Brett Favre returning to Lambeau Field news, ...
September 6, 2010
New York Jets cornerback Darrelle Revis will end his holdout tomorrow as he will sign a contract. The terms are undisclosed, but from ESPN NFL Insider Adam Schefter's Twitter account, ...
August 26, 2010
  NOTE: This is part one of a two-part series in which I will analyze two NFL teams with questions regarding fantasy production. I will analyze by position each player who ...
August 21, 2010
On Aug. 14, 2010, I went to Dallas Cowboys training camp. Sure I had a wonderful time like all the other attendees but I also had I job to do. As ...
August 7, 2010
Jason Campbell is one of those fantasy football players that is labeled everything from complete bust to team savior. Campbell has many risks attached to him when discussing his fantasy ...
July 27, 2010
According to ESPN NFL Insider Adam Schefter, controversial wide receiver Terrell Owens has agreed to a one-year, two million dollar contract with the Cincinnati Bengals in addition to a possible two-million ...