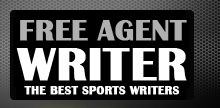 Yankee Addicts
Categories
Featured Sponsors
News published by
March 11, 2011
The NFL and the NFLPA failed to come to terms on a new collective bargaining agreement, according to NFL.com, that could leave America without it's most popular sport for the ...
August 28, 2010
I know it's preseason. I know teams don't show all of the "secret" plays that they are drawing up in the basement during offensive team meetings, but as Dan Deirdorf ...
August 12, 2010
As controversial rapper Eminem's "Not Afraid," blared through the beautifully choreographed opening scenes of Jets practice in the Hard Knocks premiere, it proved to be the perfect metaphor for ...
August 10, 2010
It's over folks. Darrelle Revis may be taking his talents elsewhere very soon. In a week's time, New York's three most incompetent owners have displayed their gift of genius, ...
April 11, 2010
Believe it or not, at some point over the next few days, Miami Dolphins linebacker Jason Taylor will stand next to Woody Johnson, Rex Ryan, and Mike Tannenbaum holding a ...
March 25, 2010
This is what a surprise run to the AFC Championship game can get you. Your very on television show! In an offseason that has been full of Jets headliners since they ...