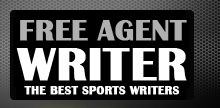 Yankee Addicts
Categories
Featured Sponsors
News published by
April 6, 2010
The father of Pro Bowl Arizona Cardinals wide receiver Larry Fitzgerald, Jr, a long-time journalist for the Minnesota Spokesman-Recorder, broke a story this week that Brett ...
March 26, 2010
NFL players should be safer during games thanks to several rule changes passed at the league meetings. They also might be playing longer in regular-season overtimes. The NFL passed rules Wednesday ...
March 23, 2010
Many running back in the NFL have rushed for 1000 yards in a season. They gain respect from their teammates and opponents. Very few have ever went beyond ...
March 21, 2010
Barry Sanders is arguably the most exciting running back to ever play the game of football. He was short, stocky, and very hard to tackle. In 1989 the Detroit Lions drafted ...
March 13, 2010
The Washington Redskins made their biggest offseason deal today by signing free agent RB Larry Johnson. The three-year deal is worth $3.5 million and could reach $12 million. The Redskins, who had ...
March 10, 2010
With protesters outside, Michael Vick was awarded the Ed Block Courage Award. The award is presented to players who show a commitment to the principles of sportsmanship and courage.  Vick was selected ...
March 5, 2010
Seems Chester Taylor has made a deal with the enemy.  Taylor signed a four-year, $12.5 million deal with $7 million guaranteed in the first year. Taylor had 338 rushing yards for ...
March 2, 2010
Who let the dogs out?  Micheal Vick should have, but he didn't.  He was sentenced to 23 months in federal prison.  He filed for bankruptcy and pretty much lost everything ...