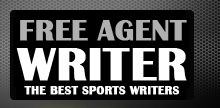 Yankee Addicts
Categories
Featured Sponsors
News published by
March 16, 2013
The New England Patriots are short one at the receiver position, and it's a gaping hole the team must fill immediately. According to the Patriots' Twitter page, veteran wide receiver Brandon ...
March 10, 2013
The NFL free-agency period officially starts on March 12 when teams can officially sign players, and there are some top defenders on the open market who will no doubt draw ...
February 24, 2013
Matt Cassel's days with the Kansas City Chiefs could be numbered, as new head coach Andy Reid continues to look for a solution at quarterback. According to Mike Garafolo of USA Today, ...
February 13, 2013
In the weeks leading up to Super Bowl XLVII, Joe Flacco's father labeled him as a dull person, but such a trait couldn't be a better thing for the Baltimore ...
February 13, 2013
The Philadelphia Eagles will bring Michael Vick back for the 2013 season after restructuring his contract, and now all that's left is for the team to put him in the ...
February 12, 2013
After a blizzard of epic proportions rocked the East Coast last week, the NFL would be wise to make a contingency plan to have Super Bowl XLVIII played either on Saturday ...
February 10, 2013
Colin Kaepernick had a stellar season for the San Francisco 49ers, and while Baltimore Ravens linebacker Terrell Suggs wasn't sure of Kaepernick's skills going into Super Bowl XLVII, he seems ...
February 3, 2013
Super Bowl prop bets are one of the more fun things to wager on for the big game, but this year's Super Bowl between the San Francisco 49ers and Baltimore ...
January 30, 2013
Super Bowl XLVII will be between the San Francisco 49ers and Baltimore Ravens. But beyond the game itself, there are some incredibly interesting storylines to watch during the biggest day ...
January 30, 2013
Super Bowl advertisements are always a hot topic leading up to and during the big game, so it only makes sense that movie trailers for some of the highly anticipated ...