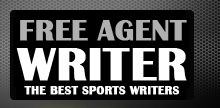 Yankee Addicts
Categories
Featured Sponsors
News published by
January 27, 2013
For as long as any NFL fan can remember, the way to win in this league has been with a solid pocket passer. However, if Colin Kaepernick succeeds in Super ...
January 27, 2013
Former New Orleans Saints defensive coordinator and recently fired St. Louis Rams defensive coordinator Gregg Williams looks to be on the verge of getting himself a new job.According to Adam ...
January 27, 2013
The 2013 Senior Bowl is a great opportunity for many NFL hopefuls to make names for themselves and improve their draft stocks. In some instances, though, the Senior Bowl can do ...
January 26, 2013
The Super Bowl is always a great chance for young players to make a name for themselves and become stars, but for some veterans, this will be their last chance ...
January 22, 2013
The betting lines are already out for Super Bowl XLVII and it has the San Francisco 49ers as the favorite over the Baltimore Ravens. While deciding on which side of ...
December 30, 2012
The 2012 Buffalo Wild Wings Bowl features the TCU Horned Frogs against the Michigan State Spartans. While both of these teams are two of the lesser known squads in college ...
December 30, 2012
This has been an incredible year for rookies—especially at the quarterback position. In Week 17, some of those same rookies will make a major impact in the playoff race during ...
December 2, 2012
Injuries are the norm each and every week in the NFL, and Week 13 will be no different as many teams will see their starters in the trainer's room, leaving ...
December 2, 2012
The Dallas Cowboys will be fighting for their playoff lives in Week 13 as they take on the Philadelphia Eagles. A win will keep the Cowboys' playoff hopes alive, while ...
December 1, 2012
The Pittsburgh Steelers have battled a ton of injuries throughout the course of the 2012 season, and the same can be said for Week 13 as the Steelers head to ...