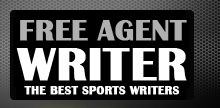 Yankee Addicts
Categories
Featured Sponsors
News published by
April 30, 2011
Eric Hagg is a classic case of a player who doesn't wow in drills, but shows flashes of brilliance on the field. Unfortunately for Hagg, a poor showing at the ...
April 9, 2011
We're just under three weeks away from the 2011 NFL Draft, and even with the league in limbo and owners and players clashing in court, there still aren't many better ...
November 12, 2010
As we did for the top 25 quarterbacks list earlier this week, we'll be taking a look at the NFL prospects for all of the top 25 running backs from ...
May 9, 2010
The Miami Dolphins roster is looking as good as it has in a very long time. In fact, there are so many talented players with the team right now, it ...
May 6, 2010
Every year there are a few games on the NFL schedule that stand out as mismatches or potential monster offensive outings or an opponent that a defense drools over. These are ...
May 4, 2010
Since being released from the New England Patriots last week, Adalius Thomas has become one of the hottest free agent names on the market, but as is the case with ...
May 3, 2010
While most of the focus this time of year is on rookie mini camps and projections for draft classes, the bargain hunting portion of free agency is just getting started. As ...
April 29, 2010
  By now most of the football world has heard about Jeff Ireland's ill conceived question to Dez Bryant regarding whether or not his mother was a prostitute. Exactly what the ...
April 28, 2010
Less than a week removed from the 2010 NFL draft, much of the focus turns towards rookie minicamps, a fresh batch of veteran free agents and the anticipation of the ...
April 27, 2010
With rookie mini-camps beginning on Friday and training camp not too far down the road, the Miami Dolphins roster will begin to take shape over the next couple months. Many of ...