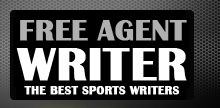 Yankee Addicts
Categories
Featured Sponsors
News published by
September 19, 2010
Green Bay Packers GM Ted Thompson has built a reputation for trading down in drafts and gathering as many picks as possible. But during the 2009 NFL Draft he went against ...
September 13, 2010
The Philadelphia Eagles went into Sunday ready to start a new era. They were rid of Donovan McNabb after a ten year run, and ready to start fresh with Kevin Kolb. Many ...
August 4, 2010
It's natural for a quarterback to find a wide receiver on his team that he deems his most reliable option. Peyton Manning had Marvin Harrison, Unitas had Berry, Aikman had Irvin, ...
May 26, 2010
Dear Roger Goodell, I know you enjoy to stay as far away from the edge as possible at all times, but it's time you hang from the cliff and attempt something ...
May 25, 2010
Talent is overrated. In order to take a single snap from under center it takes so much more than talent. If you want to quarterback any football team at any level you ...
May 10, 2010
Brian Cushing was destined for greatness. After just one full season as an NFL player, Texans outside linebacker Brian Cushing was looking like the NFL's next great linebacker. He recorded 113 total ...
May 1, 2010
Brett Favre has never missed a football game in his life. His entire career can be summed up in one word: Toughness. If The Baddest Grandpa on the Planet (Yes I'm looking ...
April 29, 2010
JaMarcus Russell was given a gift from the football gods, but he politely declined. Not everybody is awarded a 6' 6", 260 frame, with an arm that belongs in NASA. But ...
March 24, 2010
On Tuesday, the NFL ended a 50-year tradition by changing the playoff overtime rule. The old rule declared sudden-death overtime. The new one gives each team a possession unless a touchdown is ...
March 14, 2010
Talent is overrated. Brett Favre is not the most talented quarterback in NFL history. In fact he's not even close. However, talent can be improved upon with practice, excellence cannot. That is really ...