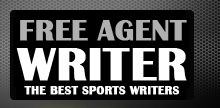 Yankee Addicts
Categories
Featured Sponsors
News published by
January 18, 2017
The Senior Bowl is the premier postseason game for NFL draft prospects, and the 2017 edition is loaded with high-profile names. Here is a rundown of some of the most notable ...
January 18, 2017
Seattle Seahawks head coach Pete Carroll revealed Monday that he and Pro Bowl cornerback Richard Sherman had a season-ending meeting to iron out issues that persisted over the course of ...
January 17, 2017
Denver Broncos safety Darian Stewart was selected to replace Kansas City Chiefs safety Eric Berry on the AFC's Pro Bowl roster Tuesday, according to Nicki Jhabvala of the Denver Post.  Stewart will join ...
January 17, 2017
Less than a week after saying he never would have played football had he fully understood the risks involved, former Pro Bowl running back Bo Jackson has defended his comments. According ...
January 14, 2017
Indianapolis Colts punter Pat McAfee announced Saturday he will undergo knee surgery and skip the upcoming Pro Bowl in Orlando, Florida. McAfee revealed the news on Twitter: The 29-year-old veteran is a ...
January 14, 2017
After two playoff appearances in three seasons, Houston Texans head coach Bill O'Brien will return in 2017. Rumors swirled that O'Brien could leave the team because of tension with general ...
January 14, 2017
While much of the focus among football observers is currently on the NFL playoffs, the 24 teams no longer in contention already have an eye toward improving during the offseason ...
January 13, 2017
One day after the Chargers announced their impending move from San Diego to Los Angeles, quarterback Philip Rivers commented on the relocation Friday. In an interview with Xtra 1360 Fox Sports Radio ...
January 13, 2017
The NFL announced Friday that Sunday's AFC Divisional Round playoff game between the Pittsburgh Steelers and Kansas City Chiefs will be moved from 1:05 p.m. ET to 8:20 p.m. ET ...
January 11, 2017
The Buffalo Bills announced Wednesday they have hired former Carolina Panthers defensive coordinator Sean McDermott as their new head coach. Bills President and CEO Kim Pegula shared a photo with McDermott after ...