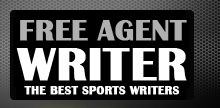 Yankee Addicts
Categories
Featured Sponsors
News published by
January 10, 2017
Following a 2016 season that earned him Heisman Trophy consideration, Michigan Wolverines defender Jabrill Peppers announced his entry into the 2017 NFL draft Tuesday.  Peppers revealed his choice in an interview ...
January 10, 2017
After 13 NFL seasons, Houston Texans nose tackle Vince Wilfork said Tuesday he is considering retirement. Continue for updates. Wilfork Torn on Subject of Retirement Tuesday, Jan. 10 According to Jim McBride of the Boston ...
January 10, 2017
New York Giants general manager Jerry Reese said Monday the organization is ready to begin looking for quarterback Eli Manning's successor. According to ESPN.com's Jordan Raanan, Reese cited Manning's age: "We always think ...
January 10, 2017
Following a regular season that saw him miss all but three games due to a knee injury, Kansas City Chiefs running back Jamaal Charles provided an update on his health ...
January 9, 2017
After serving as the Jacksonville Jaguars interim head coach for the final two games of the 2016 regular season, Doug Marrone was given the full-time job Monday. ESPN's Adam Schefter was ...
January 6, 2017
The Associated Press announced the 2016 NFL All-Pro Teams on Friday, headlined by Atlanta Falcons signal-caller Matt Ryan, who beat out New England Patriots superstar Tom Brady for the first-team ...
January 6, 2017
Following the dismissal of Joe Barry, the Washington Redskins reportedly have their sights set high when it comes to their next defensive coordinator. Continue for updates. Wilks to Speak with Redskins Friday, Jan. ...
January 5, 2017
The NFL reportedly experienced an 8 percent dip in television ratings during the 2016 regular season in comparison to 2015, according to newly released data. Per ESPN.com's Darren Rovell, an average ...
January 5, 2017
The Miami Dolphins will reportedly be without quarterback Ryan Tannehill on Sunday for their AFC Wild Card clash with the Pittsburgh Steelers. Armando Salguero of the Miami Herald was the first ...
January 5, 2017
Following the retirement of offensive coordinator Chan Gailey, the New York Jets may turn to a former staff member in John DeFilippo to fill the vacancy. Continue for updates. Report: Jets Interested ...