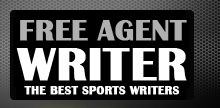 Yankee Addicts
Categories
Featured Sponsors
News published by
November 9, 2010
Everything just seemed to go right for the New York Jets yesterday. First, the Jets played completely inept football against Detroit for about three-and-a-half quarters before pulling off one of the ...
August 24, 2010
The Darrelle Revis holdout, also known as the "Long National Nightmare", has now reached it's 22nd day. But, if Tim Cowlishaw, a respected reporter from The Dallas Morning News and ESPN ...
June 29, 2010
For three seasons, Darrelle Revis has been a key member of the secondary for the New York Jets. When they play the Jets, each opposing team's best receiver is ...
June 12, 2010
As if the Jets-Dolphins rivalry doesn't need any more debates, there has been a new debate that has arisen this off-season.  Jets and Dolphins fans have argued over who has the ...
May 24, 2010
On Tuesday afternoon, the National Football League has the opportunity to make a decision which could forever change the way the Super Bowl, the biggest sporting event of the year, ...
April 2, 2010
During the Summer of 2009, it was highly publicized that Jets Running Back/Kick Returner Leon Washington wanted more money and a new contract. The Jets, according to several reports, offered Washington ...