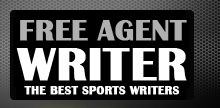 Yankee Addicts
Categories
Featured Sponsors
News published by
February 11, 2011
Usually I hate hypothetical questions, but I have a few for you. What if there is no 2011 NFL season? What would you miss the most? Would you miss seeing new head coaches ...
February 7, 2011
The Green Bay Packers and Aaron Rodgers just won Super Bowl XLV. Rodgers has had quite the journey to get to this point in his young career. In the spirit ...
January 28, 2011
Every off-season, our favorite teams go through the same process. Whether it's retooling or rebuilding, each one of the NFL's 32 franchises will be evaluating their current roster, examining the payroll, ...
January 24, 2011
The year was 2009, and the Chicago Bears acquired what they thought was an upgrade at the quarterback position when they traded for Pro Bowler, Jay Cutler, in a deal ...
January 24, 2011
Every team in the NFL has to overcome injuries and find a way to win—it's the nature of the game, and the Packers are no exception. With injuries to starters on ...
June 16, 2010
Dr. James Andrews spoke today at a luncheon sponsored by the Charlotte Touchdown Club in Charlotte, NC. After speaking, Andrews said that Brett Favre's ankle surgery went well and that he still ...