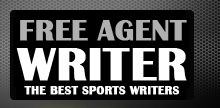 Yankee Addicts
Categories
Featured Sponsors
News published by
March 22, 2016
The Houston Texans signed former Denver Broncos quarterback Brock Osweiler to a four-year, $72 million contract in the offseason, and head coach Bill O'Brien gave his thoughts on the 6'7", 240-pound ...
March 22, 2016
Former Cleveland Browns quarterback Johnny Manziel has struggled on the field but much more so off of it. He has dealt with substance-abuse issues that have seen him in trouble with ...
March 22, 2016
The Miami Dolphins announced on Tuesday they have signed free-agent offensive guard Kraig Urbik. Terms of the deal have yet to be disclosed for the former Pittsburgh Steelers third-round pick who had spent ...
March 21, 2016
It's been nine years since the NFL had a developmental league, and according to NFL Competition Committee head Rich McKay's comments on Monday, it's not happening anytime soon, per Marc Sessler of ...
March 21, 2016
After Aldon Smith's one-year NFL suspension is complete in November, it seems the linebacker will still have a place in the Oakland Raiders organization.  Continue for updates. Raiders Cautious with Smith Because ...
March 21, 2016
Stanford Cardinal quarterback Kevin Hogan may not be getting the rave reviews fellow signal-callers Paxton Lynch, Jared Goff and Carson Wentz are, but at least one NFL team is highly interested ...
March 19, 2016
Former Chicago Bears linebacker Shea McClellin signed a three-year deal with the New England Patriots, the team announced on Saturday.  ESPN's Adam Schefter first reported the news. ESPN's Adam Caplan added the three-year ...
March 12, 2016
On Friday, San Francisco 49ers kicker Phil Dawson agreed to a one-year, $3.13 million guaranteed contract to remain with the team through next season, per Aaron Wilson of the Houston ...
March 11, 2016
Despite a flurry of free-agent activity this week, former Houston Texans running back Arian Foster isn't in a hurry to sign with a new team. Continue for updates. Foster Taking Time to Make ...
March 11, 2016
The Dallas Cowboys reportedly re-signed cornerback Morris Claiborne on Friday, according to Mike Garafolo of Fox Sports. Ian Rapoport of NFL Network confirmed the one-year deal, citing a league source, while Todd ...