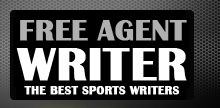 Yankee Addicts
Categories
Featured Sponsors
News published by
April 25, 2016
The Philadelphia Eagles worked a trade earlier in April to acquire the No. 2 overall selection in the 2016 NFL draft and are likely to choose a quarterback with the pick. However, while ...
April 24, 2016
The fact the San Diego Chargers are still in town is a bit of a surprise after their near-departure to Los Angeles in the offseason. However, not only are they still in ...
April 3, 2016
The Cleveland Browns announced they released defensive back Donte Whitner on Saturday. The 10-year veteran signed with the team in 2014 and promptly earned his third straight Pro Bowl appearance.  Browns executive vice ...
April 2, 2016
The Denver Broncos and San Francisco 49ers have reportedly agreed on a deal that would send quarterback Colin Kaepernick to the defending Super Bowl champions, per Adam Schefter of ESPN. However, before the ...
April 1, 2016
Free-agent offensive lineman Stefen Wisniewski has reportedly been busy this past week visiting multiple suitors. Continue for updates. Wisniewski Has Options Heading into Next Season Thursday, March 31   Ian Rapoport of NFL Network reported Wisniewski ...
April 1, 2016
The Miami Dolphins are showing interest in free-agent cornerback Greg Toler by bringing him to town for visits Thursday and Friday. Continue for updates. Toler, Dolphins Have Multiple Meetings Thursday, March 31 On Thursday, Barry Jackson ...
March 28, 2016
Tarvaris Jackson remains a free agent, but there is a good chance that the quarterback could re-sign with the Seattle Seahawks for the 2016 season. Continue for updates. Pete Carroll Would Like ...
March 27, 2016
Former New York Giants linebacker Lawrence Taylor, who was named NFL Defensive Player of the Year three times, knows a thing or two about defense. Speaking at Fiterman Sports Memorabilia at Houston's ...
March 23, 2016
A few significant rule changes came from the NFL's league meeting on Wednesday, perhaps most notably a new ejection rule. Owners adopted a change that will result in an automatic ejection ...
March 23, 2016
Quarterback Robert Griffin III may not be in Washington anymore, but that's not stopping the team's head coach from giving the former Offensive Rookie of the Year some advice.   Speaking ...