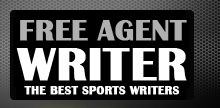 Yankee Addicts
Categories
Featured Sponsors
News published by
March 15, 2011
As the offensive side has been taken care of, it's time to look at the top NFL Draft defensive prospects, back when they were high school recruits. As highlighted back ...
March 14, 2011
As the NFL lockout begins, the NFL draft countdown continues. As all football fans worry if there will be a season next year, they also worry about who their favorite ...
October 11, 2010
Coming off a bye week for the past three seasons, the Dallas Cowboys have won their next game and then have gone on to put together some type of winning ...
September 23, 2010
According to Yahoo's Brandon Funston Twitter profile, the New York Jets have released their head-case wide receiver , Braylon Edwards. So are the New York Jets actually trying to make a statement ...
September 12, 2010
One and 15. That was the Houston Texans' record when facing the Indianapolis Colts coming into the team's season-opener Sunday in Houston. With the Texans missing their top defensive back ...
September 6, 2010
If Hollywood was never around, would some sports story lines be as entertaining as they are?According to ESPN's Adam Schefter, the New York Jets and their star defensive player, Darrelle ...
August 19, 2010
You start off with one of the greatest linebackers in NFL history, Ray Lewis. His speeches will make you want to throw on some pads and hit somebody. You throw ...
August 15, 2010
  Some things in life aren't fair, but if you're a strong person and adjust to adversity you become the strongest force known to man. Such can be said about Titans ...
August 12, 2010
Believe it or not (which you won't), but there might be one single player that doesn't mind Darrell Revis holding out. That one player is the Jets first round draft ...
August 5, 2010
With all due respect to hip hop artist Birdman. Former LSU standout wide receiver Demetrius Byrd is the true "Byrd Man" that deserves your attention. On July 22nd, 2010 I ...