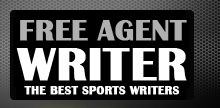 Yankee Addicts
Categories
Featured Sponsors
News published by
February 8, 2011
The popular thing to do here in Minneapolis (much to my dismay as a fan of the green and gold) is to discredit the Packers' triumphs. Whether it's a regular-season ...
January 30, 2011
Cincinnati Bengals quarterback Carson Palmer has requested a trade from the team. Palmer has spent his entire career in Cincinnati and has only been to the postseason twice. ...
January 29, 2011
Watching the Baltimore Ravens versus Pittsburgh Steelers game, one thing was pretty obvious. The Ravens still do not fully trust Joe Flacco. When the Ravens were up 21 ...
January 26, 2011
As we close in on Super Bowl Sunday (still, inexplicably, nearly two weeks away), the analysts have already speculated heavily, weighing in on everything from the three phases of the ...
January 22, 2011
To be honest, I'm a Packers fan, so I've enjoyed all of the talk about the playoffs for that reason alone (The Packers are currently participating and hopefully continue after ...
January 21, 2011
In case you've been unconscious for the last four days (or amazed at the lack of noise coming from the New York Jets), allow me a sentence to catch you ...
November 21, 2010
This is a post from Buy Like Buffett. It's about five NFL quarterbacks whose play will lead their teams to either cut ties with them or ask them to take ...
November 12, 2010
Unless the Cowboys go on a massive second half winning streak, Jason Garrett will not keep the head coaching job. The Cowboys will have a number of candidates interested in ...
October 16, 2010
Are you in need of a wide receiver to bolster your receiving corps? If so, there are still some good wide outs available in most formats. Just because a player ...
October 13, 2010
After watching Favre struggle Monday night against the Jets for the better part of three quarters, one thing became painfully obvious: Brett Favre should have stayed retired. The problem with the ...