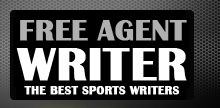 Yankee Addicts
Categories
Featured Sponsors
News published by
February 8, 2011
Behold the Power of Cheese. The state of Wisconsin exports more cheese than any other nation in the world, and that is why it is home to Cheeseheads: both the ...
January 23, 2011
The San Francisco 49ers coaching staff has now been completed. Jim Harbaugh's first coaching hires were taken from his Stanford staff. The next coaches he hired came from around the league. Now ...
December 4, 2010
Earlier in the week, I listed the eight most predictable NFL Week 12 winners in a slideshow with lengthy commentary explaining the picks. I now make a simple list of ...
September 15, 2010
There are usually two sides to any issue. For instance, with all due respect to my conservative friends, President Obama is not responsible for this recession, he inherited it but with ...
September 12, 2010
Much like Thursday's NFC predictions, these will predict the seeds of the AFC and how those matchups will play out. As stated in the aforementioned article, the AFC is expected ...
August 29, 2010
At times in the recent past, there have been two different teams vying for the AFC South division title. Other times, one could all but guarantee the winner before the ...
August 23, 2010
There are many reasons for San Francisco fans to boo Brett Favre (for coverage of the game itself, see my companion piece on Sports Haze. For coverage on ...
August 9, 2010
Last week I previewed all four NFC divisions including the South on Bleacher Report. Now it is time to preview the AFC, starting with the North; you can also click ...
July 17, 2010
As I reported on PackerChatters, the Green Bay Packers will have to do without the massive presence of Johnny Jolly on the front line for 2010. Jolly ...
July 5, 2010
Third-year quarterback Matt Flynn is all-but guaranteed the second-string quarterback position for the Green Bay Packers. Unfortunately, it is not because of his qualifications, but the lack of competition. This is the ...