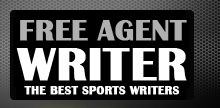 Yankee Addicts
Categories
Featured Sponsors
News published by
March 3, 2011
The 2010 Super Bowl Champions don't have any glaring needs on their football team heading into the 2011 season.  They are well stocked with young talented players at ever position ...
February 26, 2011
2011 Green Bay Packers 53 man roster: Defense (27)   Four Safeties 1. Nick Collins Collins made the Pro Bowl the past three seasons, and he saved his biggest play of the year for the ...
February 19, 2011
I know, at first glance this headline seems like it has as close to zero chance of happening as any possible event.  Say, getting struck by lighting or winning the ...
December 5, 2010
With the San Fransisco 49ers headed into Lambeau Field today coming off of a short week after blowing out the Arizona Cardinals on Monday Night Football.  The Packers have the ...
November 24, 2010
The Packers are fresh off a convincing 31-3 victory over their division rival Minnesota Vikings. Improving their record to 7-3 on the year and firmly placing themselves back in the ...
November 7, 2010
The Green Bay Packers have activated safety Atari Bigby to the 53-man roster filling the spot left vacant when they released defensive end Michael Montgomery on Tuesday.   This means ...
May 20, 2010
Green Bay Packers quarterback Aaron Rodgers will be celebrating after a lot of touchdowns during the upcoming 2010 season. I expect Rodgers, who threw for 30 touchdowns, 4,434 yards, ...
May 9, 2010
Coming into the 2010 off-season, the Green Bay Packers secondary looked to be in shambles. The defense had just given up 45 points to the Arizona Cardinals offense in their ...
May 4, 2010
The draft has come and gone and the Packers brass has already gotten its first look at their bounty on the field at rookie orientation. Several outside linebacker prospects were among ...
April 8, 2010
Could Miami tight end Jimmy Graham be in a Packers uniform in 2010? I doubt it but with Ted Thompson running the draft show you can't rule it out. ...