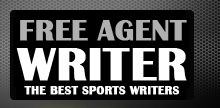 Yankee Addicts
Categories
Featured Sponsors
News published by
March 17, 2013
After a season in which the Pittsburgh Steelers, once among the league's rushing elite, averaged only 96.1 yards per game (good for 26th in the NFL according to NFL.com), the ...
March 6, 2013
With the NFL's annual free agency frenzy set to begin, the Pittsburgh Steelers are preparing like every other team with both internal and external free agents.For the Steelers, this is ...
February 27, 2013
The Pittsburgh Steelers have several players that are noticeably on the decline. Their careers are a handful of years from being over at most, and the team must start looking ...
February 13, 2013
The Pittsburgh Steelers have always embodied the philosophy that consistent contenders build through the draft and not through free agency. That is never going to be more essential than in ...
February 6, 2013
Though their season has been over for more than a month, the Pittsburgh Steelers will, now that the Super Bowl is finished, turn their attention to what to do with ...
January 30, 2013
The Pittsburgh Steelers aren't known for long stretches of being out of contention, so it is reasonable to expect the team to reload rather than rebuild. This 2013 offseason is ...
January 23, 2013
The Pittsburgh Steelers will need to use the 2013 NFL draft to fill as many holes on the roster as possible. Without significant money to spend on free agents and ...
January 2, 2013
The Pittsburgh Steelers will need to do some heavy lifting on draft day if they are to improve a roster that is full of older players and some leaks.The Steelers ...
December 5, 2012
While the 7-5 Pittsburgh Steelers appear to have righted the ship for the moment as they struggle to move forward without quarterback Ben Roethlisberger, the front office is undoubtedly already ...
November 28, 2012
After falling to 6-5 on the season and in danger of dropping to .500 this week, the Pittsburgh Steelers—not to mention the rest of the NFL—have a new appreciation for ...