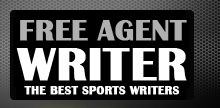 Yankee Addicts
Categories
Featured Sponsors
News published by
November 21, 2012
The Pittsburgh Steelers have had some serious injury woes in recent weeks. That has put their depth to the test and given the team pause when it considers how to ...
October 31, 2012
After seven games, the Steelers sit at 4-3 and are one game behind first-place Baltimore in the AFC North. The Steelers are riding a two-game winning streak and have drastically ...
October 24, 2012
Ben Roethlisberger has been the MVP of the Pittsburgh Steelers through the team's first six games and is a big reason why this team is 3-3 instead of 1-5 or ...
October 10, 2012
The Pittsburgh Steelers were very happy to welcome back a recovered Rashard Mendenhall to their backfield against the Philadelphia Eagles. Mendenhall, who helped key a victory in Sunday's game, is ...
September 5, 2012
With the 2012 NFL regular season about to unfold in all of its grandeur, the time has come for final predictions on how each game will unfold. The Pittsburgh Steelers ...
August 25, 2012
Final Score: Pittsburgh 38, Buffalo 7 Game Information and Introduction:The third game of the preseason is the most important contest for each team. This is the best dress rehearsal for the ...
August 22, 2012
The Pittsburgh Steelers had, on paper, one of the best draft classes of 2012. That paper is now out the window and practices and games are telling the tale. There ...
August 1, 2012
As the Pittsburgh Steelers continue to adjust to Todd Haley's offensive system after four years running the Bruce Arians offense, fans are clamoring for an idea of what to expect ...
August 1, 2012
The Pittsburgh Steelers have a long list of players who, in only one offseason, went from under-the-radar prospects to key cogs in the team's plans. That list includes guys like ...
July 24, 2012
The Pittsburgh Steelers have the distinction of often being lauded as one of the best-drafting teams in professional sports. Their 1974 draft is the stuff of legend and is only ...