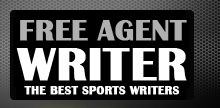 Yankee Addicts
Categories
Featured Sponsors
News published by
April 9, 2010
Sound the alarms, Detroit could set off a ticking time bomb if the commissioner says these words: "With the second selection in the 2010 NFL Draft, the Detroit Lions select Russell ...
April 9, 2010
As many Lions fans may know, Detroit has expressed interest in grabbing a back in this year's NFL. While I do not feel the need to draft a back, grabbing ...
April 8, 2010
The Detroit Lion's pick could actually be the toughest decision in the war room in this year's NFL Draft. They likely will enter with a bang, drafting super-stud Ndamukong ...
April 7, 2010
The Detroit Lions have made a few subtle moves, that have many fans cheering for Mayhew, which to a extent is great seeing that fans are actually coming out ...
April 6, 2010
The Detroit Lions, all of whom have pretty much settled on grabbing Ndamukong Suh out Nebraska in this year's NFL Draft. Which I personally, have no problem with. But Detroit ...
April 5, 2010
Breaking News, the Washington Redskins have acquired Donovan McNabb from the Eagles, so says ESPN.com's NFL Insider Adam Schefter. Earlier in the week, it was reported that the Oakland Raiders ...
April 4, 2010
  The Detroit Lions, haven't been quiet this offseason, making a plethora of good moves prior to the NFL Draft, but there are some moves I think that are still remaining ...
March 17, 2010
Have you heard of Eric Berry? Detroit, maybe you should take look at this man.  NFL Analysts and scouts see either Russell Okung from Oklahoma State or Ndamukong Suh out of Nebraska. But ...