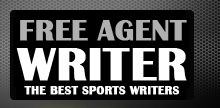 Yankee Addicts
Categories
Featured Sponsors
News published by
May 24, 2010
Last offseason, Detroit made a trade with its usual trade partner the Seattle Seahawks, acquiring Julian Peterson for former DT Cory Redding, who signed a seven-year, $49 million deal ...
May 1, 2010
Caleb Campbell is back in the NFL. It took two years but he's finally back, and I have a few words for him. Welcome Back. The Detroit Lions announced April 30 that Caleb ...
April 17, 2010
Mayhew sure does know how to confuse the Lions public. While he does always express the desire to trade down, he is also satisfied staying at the position. And his draft plans ...
April 16, 2010
The NFL Draft and the lead up has become pretty standard in today's world. But what if the NFL Draft order was reversed? Could the players drafted fall down on board quicker, ...
April 16, 2010
The Lions has been very active in adding pieces to the puzzle in Detroit, but it seems that Daniel Loper is not a piece. The news today is the Detroit Lions ...
April 14, 2010
While Donald Penn is the starting LT for the Tampa Bay Bucs, he has had a weight issue in the past and that issue was a problem last year and ...
April 12, 2010
With the NFL Draft nearing, many fans are forgetting there are still free agents out there. Free agents that can help our team. While Detroit has been rather quiet on the ...
April 11, 2010
While the draft nears, and Detroit interviews players, the question is: what is missing from Detroit's 4-3 defense to be successful? For those who don't know how to run a 4-3, ...
April 11, 2010
  Clausen isn't the hundredth best player in this year's draft, but is he number two? Is Clausen worth the second selection in this year's NFL Draft? No Detroit, before you get your ...
April 10, 2010
The Detroit Lions currently have six safeties on their roster. Most notably, rookie safety Louis Delmas. Also on their roster is Ko Simpson, Kalvin Pearson, Marvin White, Marquand Manuel, and Daniel Bullocks. Daniel ...