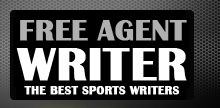 Yankee Addicts
Categories
Featured Sponsors
News published by
September 27, 2010
After watching Kyle Orton win only three times in his last 13 starts, one thing has emerged as crystal clear as a cool rocky mountain stream: Orton is not a ...
September 12, 2010
Well it is a gorgeous summer morning here in Jacksonvile, Fla. Heat index readings is expected to be 100 to 104. Current humidity level is @ 88%, chance of rain today ...
September 3, 2010
What we have seen thus far is an average team from the Broncos. But this average team being in the storm of growing pains with a new head coach at ...
August 31, 2010
You can't keep doing the same thing over and over again and expect different results, by definition that is crazy. Last season the Broncos had wide receiver Brandon Marshall and ...
August 19, 2010
Dennis Dixon could be found running out of pocket after pocket during the Steelers first preseason game. Even with receivers wide open right in front of him, Dixon, like a stallion ...
August 1, 2010
 ENGLEWOOD, Colo. -- First day of Training Camp took on an ominous start when Denver Broncos running back Knowshon Moreno was carted off the field after hurting his right leg ...
July 31, 2010
Denver: Former Georgia Tech Demaryius Thomas and the Broncos have agreed to terms of a five-year deal worth approximately  $15.5 Million, with $9.35 million guaranteed. Thomas' freaky 25 yards per reception ...
July 31, 2010
Broncos head coach Josh McDaniels has created a ferociously competitive atmosphere, which has intrigued fans who are anticipating various outcomes of the roster spot battle's in training camp. JJ Arrington has ...
July 31, 2010
(Denver, CO) Josh McDaniels has proven time and time again to have an itchy trigger finger. Staying true to form, he traded J.J. Arrington to the Philadelphia Eagles for linebacker Joe Mays ...
July 30, 2010
Denver: Head Coach Josh McDaniels was entertaining the notion of taking a quarterback by committee approach after Tim Tebow made it a very "Good Friday" for the Broncos Training Camp ...