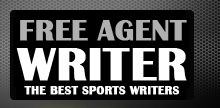 Yankee Addicts
Categories
Featured Sponsors
News published by
July 29, 2010
Tim Tebow and the Denver Broncos agreed to terms of a five-year, $33 million deal, including $8.7 million guaranteed. Tim Tebow was the 25th selection of the 2010 NFL Draft. The 25th selection ...
July 29, 2010
  Making my rounds across this leagues message boards while listening to fans takes regarding the signing situation the league has found itself in with the first round picks, I noticed there is a school ...
July 26, 2010
  The impact of Ben Roethlisberger entertaining boys and girls young and old off the field has created a ripple effect. This effect is  like a tsunami heading directly to the ...
July 26, 2010
The NFL has shifted gears once again, and nothing reveals this reality more than seeing players such as Troy Polamalu complaining about the Pittsburgh Steelers' legacy of pounding the rock ...
July 25, 2010
Why are fans and "experts" alike all over this league naming the role Tim Tebow will play the "Wild Cat"? The Gainesville Sun reports: 'Tebow was recently ranked the third most influential athlete ...
July 24, 2010
CBS Sports.com in a recent interview with Josh McDaniels managed to give us some interesting takes from the coach. Now I found myself chasing his quotes around the Internet to see just how far they ...
July 22, 2010
Contrary to what some fans and players believe, Steelers' offensive coordinator Bruce Arians says this will be a pass happy offense again this season. I have been preaching it this entire ...
July 22, 2010
"We can't defend the behavior or the actions as an organization and we won't, but we do defend his opportunity to make right, and I think that's the right thing ...
July 21, 2010
The 40 yard dash was a factor NFL teams such as the Dallas Cowboys started using in the early 60's to evaluate football players. The 40 yard dash was one ...
July 18, 2010
Mike Singletary, head coach of the 49ers, needs to think about looking into bringing in another quarterback to compete for the starting role. Otherwise he may be forced to trade his second ...