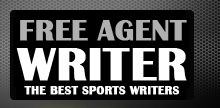 Yankee Addicts
Categories
Featured Sponsors
News published by
April 1, 2010
  According to some pundits, the 49ers are going to draft Anthony Davis OT out of Rutgers with their first round pick at 13.  I think this is a huge mistake.  ...
March 21, 2010
My wife recently visited a local library and brought home a book about leadership.  It is called "The Score Will Take Care of Itself," and it is about Bill Walsh's ...
March 18, 2010
What is going on in 49er land? Weeks away from the most important draft in recent years, with the team on the cusp of ending its playoff drought, the GM is ...
March 18, 2010
Surprised? Most would be.   Looking at multiple mock drafts from the major sports outlets, you tend to think that the 49ers would be best served to draft one lineman and ...