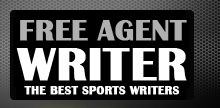 Yankee Addicts
Categories
Featured Sponsors
News published by
March 13, 2011
Despite two extensions and use of a federal mediator, the two sides in the NFL labor dispute could not completely bridge a $1 billion gap. The NFL Players Association has ...
February 19, 2011
The end of February brings uncertainty this year for the San Francisco 49ers and the rest of the NFL. The NFL Players' Association's Collective Bargaining Agreement with the league ...
February 17, 2011
ESPN reported today that many reputable sources are claiming free agent defensive end Richard Seymour has reached a deal, in principle, to remain with the Oakland Raiders. Details of the ...
February 11, 2011
Alex Smith must be a real enigma to the San Francisco 49ers. Seemingly since the day he was drafted, the fans have been almost unanimously against him. Many were ...
February 5, 2011
Super Bowl XLV is finally upon us and mercifully, the over-commercialized advertising front with a pinch of football thrown in will soon be over. For San Francisco 49er fans, the ...
February 4, 2011
When we left off, we had explored five viable, but largely unexciting options to lead the San Francisco 49ers offense at quarterback under Jim Harbaugh. Alex Smith, Kerry Collins, Bruce ...
January 29, 2011
It is far from a news flash that the San Francisco 49ers have deep problems at quarterback. Only David Carr is currently under contract, and his performance in the second ...
January 6, 2011
Just as predicted, Stanford quarterback Andrew Luck was the first player to come off the board of the 2011 NFL Draft. No, the NFL has not changed the rules and ...
December 28, 2010
Despite an historically poor field of competition in the NFC West, the San Francisco 49ers were unable to prove their young team president right when he predicted even after an ...
December 18, 2010
The 2010 incarnation of the San Francisco 49ers could be considered one of the most dysfunctional and under-performing squads in the proud history of the franchise. The 49ers followed up a ...