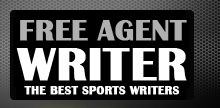 Yankee Addicts
Categories
Featured Sponsors
News published by
December 13, 2010
As Chris Berman is fond of saying, "That's why they play the game." After watching the San Francisco 49ers waltz past the Seattle Seahawks on Sunday by a final score ...
December 6, 2010
Something very strange and very rare happened in Sunday afternoon's game at Lambeau Field: exactly what was supposed to happen. Despite a slow start, the 7-4 Green Bay Packers ultimately ...
October 27, 2010
Much has recently been made of what the San Francisco 49ers—at 1-6 this season—can now no longer hope to accomplish. They cannot make the playoffs. They cannot improve on ...
October 3, 2010
Nothing went right for the San Francisco 49ers this past week. Last Sunday, they had their worst effort on the young season looking absolutely pathetic in every facet of ...
October 2, 2010
The San Francisco 49ers 2010 season took another interesting turn over the last couple of days, when news broke that disgruntled starting free safety Michael Lewis had left the team, ...
October 2, 2010
New San Francisco 49ers offensive coordinator Mike Johnson's first press conference is in the books. How did he do? It is somewhat difficult to say. It was great to ...
September 30, 2010
The San Francisco 49ers have not made the postseason since 2002 and since then have been mired in a continuous downward spiral of horrid quarterbacks, draft day blunders, and idiotic ...
September 26, 2010
Just when you thought it was safe to jump back on the San Francisco 49ers bandwagon, the red and gold travel to Kansas City and lay another egg, losing to ...
September 22, 2010
The San Francisco 49ers definitely showed their fans and the NFL something in their  Monday Night loss to the New Orleans Saints. The only question is: what exactly was it? ...
September 16, 2010
In the wake of the San Francisco 49ers' embarrassing gaffe in the season opener against the Seattle Seahawks, two all-too-common cries have reemerged in earnest among Bay Area media and ...