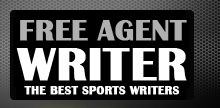 Yankee Addicts
Categories
Featured Sponsors
News published by
January 11, 2011
There will be no Super Bowl repeat for the New Orleans Saints. While the loss to the 7-9 Seattle Seahawks may be shocking in itself, the fact that the Black and ...
October 11, 2010
Not only do the New Orleans Saints not look like a Super Bowl contender, they don't even look like a playoff contender. And it's the offense, not the defense, that's letting ...
September 29, 2010
The agent for kicker John Carney, Jack Mills, announced on Tuesday that the New Orleans Saints have re-signed their former kicker. So what now? This raises more questions than it does answer ...
September 26, 2010
The Atlanta Falcons beat the New Orleans Saints at their own game—and in their own building. New Orleans was supposed to be the team to force turnovers. They were supposed ...
September 23, 2010
The Atlanta Falcons and New Orleans Saints have been division rivals since 1970 when both teams joined the newly formed NFC West. In 2002, they continued their heated rivalry as ...
September 22, 2010
The New Orleans Saints are 2-0, and that's all that really matters. However, it's the way they won that has this member of the Who Dat Nation a bit concerned. Don't get ...
September 18, 2010
Quarterbacks Drew Brees The Saints All-World quarterback's ho-hum numbers against the Minnesota Vikings (237 yards, one touchdown, zero interceptions) paled in comparison to his usual numbers.It was good enough to ...
September 14, 2010
NFL Week One is in the books. Now, it's time to look forward to Week Two.The New Orleans Saints survived its NFC Championship rematch with the Minnesota Vikings, and the ...
September 9, 2010
The NFL season is finally upon us. No more training camp and preseason games. It's time for some real football.The Minnesota Vikings and New Orleans Saints will open the regular ...
September 7, 2010
Drew Brees has led the NFL in touchdowns in each of the past two seasons, and is attempting to become the first player to lead the league three ...