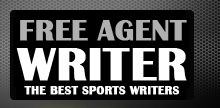 Yankee Addicts
Categories
Featured Sponsors
News published by
September 2, 2010
In its eight years of existence, the NFC South has never had a repeat winner. Carolina, Tampa Bay, and New Orleans have each won the division multiple times, but no ...
August 28, 2010
Major League Baseball and its umpiring crews have received their share of criticism over the years. Close plays at the plate, inconsistent strike zones, and rapid-fire ejections are scrutinized on ...
August 23, 2010
Drew Brees led the New Orleans Saints to two touchdowns on his three drives, but he was just one of many players who looked sharp in the Saints' 38-20 win ...
August 15, 2010
Shortly before the New Orleans Saints opened up training camp, I made some predictions regarding the final 53-man roster. While some of the position groups are easy to gauge, like ...
July 27, 2010
The New Orleans Saints' quest to claim a second straight Lombardi Trophy is just about underway. All players report to camp on July 29 and the first practice is July ...
July 25, 2010
In anticipation of its August 10 release, the Madden 11 team and player ratings have been released. The Saints' overall rating of 92 is by far the highest rating in the ...
July 22, 2010
For more than four months, the New Orleans Saints have been shackled. The Saints, being the Super Bowl champions that they are, qualified as one of the eight teams whose movement ...
July 13, 2010
Thirteen NFL seasons and he's still among the best. That alone should tell you something about Darren Sharper's Canton credentials, but if that's not enough, there's more. A lot more. Interceptions are ...
July 7, 2010
The NFC South received an infusion of young talent from the 2010 NFL Draft. The players came from all backgrounds and pedigrees. They hail from powerhouses like Oklahoma, Alabama, LSU, ...
July 6, 2010
How will history look back on the 2009 New Orleans Saints? Will they be seen as just a flash in the pan and a feel-good story, or the beginning of something ...