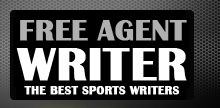 Yankee Addicts
Categories
Featured Sponsors
News published by
June 23, 2010
"Speechless." That was the reaction of Bobby McCray upon hearing about his sudden release. Fans and even media members that cover the team on a daily basis were caught off guard by ...
June 21, 2010
Jammal Brown is now officially a Washington Redskin. The New Orleans Saints agreed to trade their disgruntled left tackle on Saturday after Brown sat out numerous voluntary workouts. The restricted free ...
June 17, 2010
Once you win a ring, it's time to get paid. That's the mindset in the NFL, and you see it every year. A player's monetary value is never higher than it ...
June 14, 2010
To repeat as winners of the NFC (NFL from 1966-1970) is more rare of a feat than repeating as Super Bowl champion. There have been eight occasions in which a team ...
June 7, 2010
The NFL's runner-up hasn't exactly done great the following year. There have only been a small handful of teams to make it back to the Super Bowl after losing it ...
June 1, 2010
It happens to everyone. Whether it be age, injury, or circumstance, every pro athlete eventually sees a decline from his or her usual production. We saw it last year with running ...
May 27, 2010
While the New Orleans Saints made very few changes on the offensive side of the ball, there are a few new faces on defense. Gone is linebacker Scott Fujita (signed ...
May 25, 2010
This New Orleans Saints' offense should be clicking on all cylinders again this season as they return nearly every key member from last year. The Saints return every wide receiver, tight ...
April 27, 2010
Ten years ago, the New Orleans Saints selected quarterback Marc Bulger with pick No. 168 in the draft. Thirty-one picks later, the New England Patriots took a chance on Tom ...
April 23, 2010
When Drew Brees announced that the Saints had picked a cornerback, I screamed. And not an excited, jump up and down kind of scream. It was more of a throw the remote ...