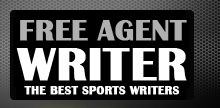 Yankee Addicts
Categories
Featured Sponsors
News published by
June 3, 2010
Injuries are a part of the high-impact sport of football. How a team copes with its injuries is generally a much greater barometer for success than how well ...
May 27, 2010
  There is the perception going around that Ryan Mathews is put in a difficult position because he is following in the footsteps of a future hall of famer after San ...
May 24, 2010
The NFL is brimming with young talent eager to replace the old guard still enforcing their will across the league. Some of these players are already considered to have ...
May 22, 2010
Unencumbered by the rotational trend that makes running back predictions so difficult, many quarterbacks are nevertheless unpredictable especially considering the many contributing factors that will affect players this year such ...
May 20, 2010
San Diego's 2010 offseason was filled with roster turnover as the team elected to go younger and cheaper at seveal positions including nose tackle and running back. 2011 could ...
May 15, 2010
NFL rookies come into the league with high hopes and high expectations. Until they take the field every first-rounder's a perrenial pro-bowler while each second and third can become ...
May 13, 2010
NFL training camps are still in the voluntary workout stage across the league, a time where nothing is decided and positions remain undetermined. Nevertheless, with no starting positions announced, wide receiver ...
May 13, 2010
San Diego Chargers' linebacker Shawne Merriman may have taken the most important steps towards putting on a different uniform when he fired longtime agent Tom Condon in favor of David ...
May 11, 2010
NFL teams are always looking to save a little money by letting go of pricey veterans in favor of younger, cheaper options who pair less mileage with lower (unless picked ...
May 6, 2010
What makes a dark horse? Everyone has their own definition and opinion, but the most common shared theme is a player whose hype ranks far below his performance. What rookies ...