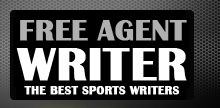 Yankee Addicts
Categories
Featured Sponsors
News published by
April 17, 2010
The final position on this off-season series, defensive ends falls into the same situation as safety and inside linebacker. The three-man rotation of Luis Castillo, Jacques Cesaire, and Alphonso Boone ...
April 17, 2010
Paired with running back as the most obvious need for San Diego, the position of nose tackle also stands as one much more difficult to fill. The deep running back pool ...
April 16, 2010
San Diego has had its fair share of transactions so far this offseason. From unloading former pro bowlers Ladainian Tomlinson, Jamal Williams, and Antonio Cromartie to bringing in a ...
April 15, 2010
Very similar to the safety position, San Diego has great depth at the inside linebacking position while lacking any true game-breaker. The rotation among Stephen Cooper, Brandon Siler, Tim Dobbins, and ...
April 15, 2010
San Diego's need at outside linebacker is completely dependent on how they view current starter Shawne Merriman.   The restricted free agent tender afforded Merriman only guarantees they will be able to ...
April 13, 2010
  Safety has been a weak point for the San Diego Chargers for the past several years.  Following Marlon McCree's departure from San Diego after the 2007 season, the position went ...
April 12, 2010
The trade of Santonio Holmes to the New York Jets for the bargain-basement price of a fifth-round draft pick may just serve to punctuate an idea permeating across the NFL. Big-time ...
April 12, 2010
San Diego enters 2010 with its deepest cornerback roster in a long time.  Quentin Jammer is still entrenched in his position as the team's primary corner, but now has the potential ...
April 9, 2010
The current notion of AJ Smith is that of an enigmatic talent evaluator. By eschewing big-ticket free agent acquisitions in favor of a primarily in-house developmental approach, Smith has ...
April 6, 2010
Here it is.  After looking at the team's array of relatively settled positions the first of the team's major concerns reach the table for the final offensive size of the ...