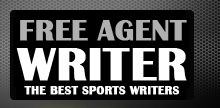 Yankee Addicts
Categories
Featured Sponsors
News published by
April 26, 2011
The storylines of the 2011 NFL draft have been swirling around Cam Newton and the rare potential of this defensive line class. Newton is seen by many to be one ...
October 24, 2010
The Pittsburgh Steelers (with the help of newly-returning QB Ben Roethlisberger) are heading into Miami this Sunday to try and keep the Dolphins without a victory at home this season, ...
October 20, 2010
I love watching the Miami Dolphins when they are on the goal line, and no, I don't mean they are fun to watch when they are on offense on the ...
September 30, 2010
Post taken from: Dolphin Shout   The Wildcat has been great for the Miami Dolphins since they brought it in two years ago, but recently it has been a hindrance more than ...
September 5, 2010
Thankfully, we have added more depth to our offensive line. The Dolphins just acquired offensive lineman Pat McQuistan from the Dallas Cowboys. The Dolphins depth on the offensive line ...
August 18, 2010
Please check out my blog: Dolphin Shout One thing the Miami Dolphins don't have a shortage of is young, talented CBs. The most recent to emerge is Nate Ness, who ...
August 13, 2010
Please check out my blog: Dolphin Shout The Miami Dolphins' first preseason game is this Saturday against the Tampa Bay Buccaneers. It is also the debut of the new defense ...
August 8, 2010
Article from Dolphin Shout I was reading an article on Miami Dolphins DE/NT Randy Starks recently, and it got me thinking. The Dolphins are being very, very risky by going ...
August 6, 2010
I was participating in a draft last week, when I saw that Miami Dolphins running back Ronnie was available. I considered drafting him, but then passed him up. I don't remember who ...
August 4, 2010
Please be sure to check out my blog: Dolphin Shout . As soon as the Miami Dolphins added Brandon Marshall, I immediately started thinking about how he would improve the ...