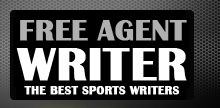 Yankee Addicts
Categories
Featured Sponsors
News published by
July 6, 2010
I've told you about offense, and now I will tell you five defensive players who are bound to break out next season. Our defense needs a lot of these players ...
July 3, 2010
All Dolphins fans are hoping for a breakout season this year. They want a team that can win this season. Some fans are impatient and want to see Miami go far ...
June 30, 2010
With training camp a month away, I figured it is never too early to start analyzing things we should be watching during the Miami Dolphins training camp. Every team has concerns ...
June 25, 2010
You have heard about the hype surrounding Chad Henne that Miami Dolphins owner Stephen Ross started. Ross said that Henne has the potential to become the best Miami Dolphins QB ever. ...
June 24, 2010
Nick Saban essentially apologized to the Miami Dolphins in an interview recently. Nick Saban was the Miami Dolphins head coach for the 2005-2006 season when he helped the team ...
June 22, 2010
The NFL's proposed enhanced schedule does not have any real benefits that make it worth going through with. It just adds too much danger and takes away too much ...
June 22, 2010
There has been minimal talk regarding Ronnie Brown's contract issue. While chances are very, very slim that Brown will play somewhere else this year, why not pretend like he did? ...
June 16, 2010
Please be sure to check out my blog here: http://www.Dolphinshout.com Miami Dolphins QB Chad Pennington has been recovering from a shoulder surgery since last season. It is the third surgery ...
June 8, 2010
If you are a fan of the Miami Dolphins you should be excited, very excited. Your team is about to take a big step in to being one of ...
June 8, 2010
Please be sure to check out my blog: http://www.DolphinShout.com Here is my fantasy football mock draft. This is for a 12-team league, so pick according to your own situation. I don't in ...