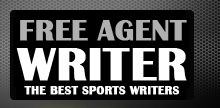 Yankee Addicts
Categories
Featured Sponsors
News published by
February 13, 2011
Let me make one thing very clear:  I think Jared Gaither is an incredible athlete, and is a very, very good football player.If I ran the Ravens, he would probably ...
January 11, 2011
On Sunday, the Baltimore Ravens played their best game of the season.  Even the lopsided score of 30-7 doesn't show the level of domination over the Kansas City Chiefs. The story ...
December 22, 2010
The disappointing story of Sergio Kindle's injury this year has been overshadowed by what the Ravens have accomplished on the field.  Kindle was a second-round draft pick in 2010.  He was ...
October 25, 2010
The Ravens were outcoached and—for big parts of the game—outplayed. Yet with 10:54 to play in overtime, Billy Cundiff hit a 38-yard field goal to pull out a 37-34 win.This ...
October 22, 2010
Typically, fans and writers alike consider the AFC North Division rivalry games "must win".  Many considered both the Steelers game and the Patriots game "must win" situations for the Ravens. I ...
October 14, 2010
Every Ravens fan and every Patriots fan remembers the last time these two teams met.  The Ravens simply embarrassed the Patriots in their own stadium.  The Ravens scored 24 points ...
October 9, 2010
Every year, the NFL has a number of surprises.This year, there are surprises all around the league, from who is leading the standings to who is bringing up ...
October 3, 2010
I expect Monday sales of blood pressure and heard medication will go up in both Baltimore and Pittsburgh.  For Ravens fans, though, things are looking pretty good after a win ...
September 30, 2010
The Ravens travel to Pittsburgh this Sunday to take on the rival Steelers in what I think is the most important game of the week.  Not just for the great ...
September 27, 2010
The Ravens beat the Browns 24-17 in a game that seemed much harder than it should have, primarily due to the outstanding performance of Peyton Hillis and the Browns offensive ...