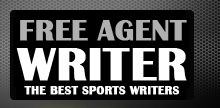 Yankee Addicts
Categories
Featured Sponsors
News published by
April 8, 2011
This article is an attempt to try and match the top QBs in the 2011 draft with the team where they seem to be the perfect fit.This is not an ...
April 5, 2011
There seems to be pretty much consensus among draft guru's that Marcell Dareus will be the Denver Broncos pick at No. 2 in the draft.With the re-signing of Champ Bailey, ...
February 8, 2011
To be honest, I only know about Ryan Mallet from what I have read. And there seems to be so many similarities with Jimmy Clausen:1. They both were highly ...
January 14, 2011
The hiring of Pat Shurmur as the new head coach for the Cleveland Browns means that Mike Holmgren is going to be far more involved in the team than last year. Shurmur ...
January 14, 2011
The articles coming in on the draft are growing, and we are all fiddling with our own little mocks. And as every year the most certain thing everybody is predicting is ...
January 14, 2011
I think the hiring of John Fox as the new head coach for the Broncos is a wise move that tells us that the Broncos are building a foundation of ...
January 1, 2011
I have just read this piece by Jack Gorman here on B/R:  http://bleacherreport.com/articles/558539-washington-redskins-will-dan-snyder-replace-mike-shanahan-with-jon-gruden If Shanahan was fired in Washington should the Denver Broncos try to get Shanahan back to Denver ?? Could the ...
December 19, 2010
I don't think I have ever heard about a rookie QB entering his first game as a starter, getting so much "hate" before anybody has really been able to evaluate ...
December 8, 2010
This is NOT an article written in defense of McDaniels. This article is made because it amazes me how a huge franchise like the Denver Broncos can accept mismanagement like ...
November 30, 2010
I think that Pat Bowlens comments on McDaniels showed us a lot about what has gone wrong in Denver. I think the message was that Pat Bowlen still has a lot ...