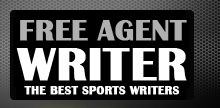 Yankee Addicts
Categories
Featured Sponsors
News published by
September 16, 2012
Don't overreact. Week 1 was the first real action of the 2012 season, obviously. And while we can finally begin to really judge teams and players and get an idea ...
December 25, 2010
Week 16 means its crunchtime in the NFL. Four teams have clinched playoff berths and more are at stake this weekend. The highlight of the week: Atlanta against New Orleans on ...
November 19, 2010
It's Week 11 and all the bye weeks are over, so there is a full slate of NFL games this weekend and every weekend here on out. The Sunday and ...
November 8, 2010
No matter how much Bill Belichick preaches that no one individual is greater than the team, Tom Brady is the face of the New England Patriots. His talent, leadership and determination ...
November 3, 2010
When the New England Patriots and Bill Belichick traded away Randy Moss, many were up in arms. The best deep threat in the game was gone. Could any young receivers ...
October 29, 2010
In the New England Patriots' Week 8 showdown against the Minnesota Vikings, all eyes will be on Randy Moss, who makes his return to Gillette Stadium after being traded in ...
October 28, 2010
Week 8 has a plethora of storylines that should make for an interesting Halloween weekend. The Broncos and 49ers play in the annual London game. Randy Moss returns to New ...
October 20, 2010
After this weekend's NFL games and a slew of hard hits, the NFL and the media are ablaze. Thanks to Brandon Meriweather, Dunta Robinson and James Harrison the NFL is changing ...
October 18, 2010
Yes, the most die-hard of New England Patriots fans have put their entire trust in Bill Belichick over the years and do not question him. But they aren't in the majority. Last ...
October 17, 2010
Parity is paramount in the NFL 2010 season. It's Week 6 and no team is undefeated. A team vying for the division championship traded its top wide receiver and still ...